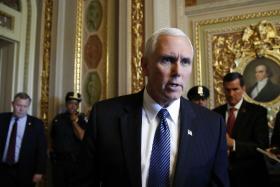 A young visitor to the White House demanded an apology from the Vice President after he accidentally hit him in the face.
Mike Pence hosted members of the military and their families at the White House on National Military Spouse Appreciation Day.
First declared by former President Ronald Reagan, the holiday recognises the sacrifices made by military families.
Mr Pence invited some of the children present to stand next to him as he delivered his remarks, creating a slightly restless, miniature crowd around him at the podium.
"I want to assure you, military families will never have a better friend than President Donald Trump," Mr Pence told the crowd.
At one point, the Mr Pence spread his arms wide to address those assembled– and accidentally hit one of his young audience members in the face.
While it looked like a minor brush, the child was not about to let his vice president off the hook.
He followed Mr Pence around the room after his speech, watching him shake hands with military spouses and embrace their children.
"Excuse me," the child said repeatedly. "Excuse me, you owe me an apology."
Eventually, the persistent youth got what he wanted.
"Oh, sorry for bopping you," the vice president said quickly, before turning around to greet another family.